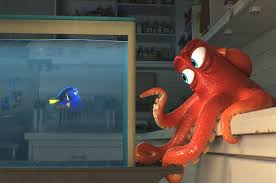 Disney Parks Blog has confirmed that "Turtle Talk With Crush" at Epcot and Disney California Adventure will be getting a makeover in honor of next Summer's June 17 release of "Finding Dory."
Starting in early-May 2016, Disney park guests on both coasts will see new characters from the upcoming Pixar "Finding Nemo" squeal. Guests will be able to meet Crush's son Squirt, Bailey the beluga whale, Destiny the whale shark, and Hank the "septopus" in the "Turtle Talk with Crush" show. They may even see Marlin and Nemo!!
If you would like a quote or  to book your adventure contact us today!
Originally Written for TMSM By Adventure Coordinator Autumn