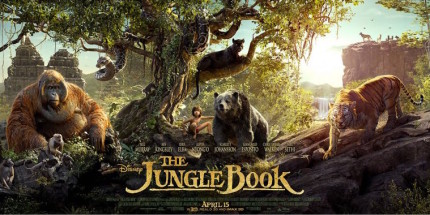 Starting March 18th guests at Disney's Hollywood Studios and Disney California Adventure will be able to watch a special preview of Disney's upcoming live-action movie "The Jungle Book."  This special event will feature an introduction by the movie's director  Jon Favreau. This intro will "pay homage to Walt Disney." Guests at Disney California Adventure can see the preview with special in-theater effects at the Bug's Life Theater, while guests of Disney's Hollywood Studios can view it at  the Walt Disney: One Man's Dream attraction.
The new movie is based on Rudyard Kipling's book "The Jungle Book" which Walt Disney turned into a full length animated movie in 1967. For those that somehow have missed the amazing Disney classic cartoon, the story follows the adventures of Mowgli, a small boy who is raised in the jungles of India by a family of wolves. The new live action version features realistic CGI animals and backgrounds with a real actor, Neel Sethi who plays Mowgli. An all-star cast featuring well know celebrities like Bill Murray(Baloo); Christopher Walken (King Louie); Scarlett Johansson (Kaa); Ben Kingsley (Bagheera) and Idris Elba (Shere Khan) lends their voices  to the characters we all know and love in this new take on the Jungle Book.  The Jungle Book officially opens in the US on April 15, 2016.
If you would like a quote or  to book your adventure contact us today!
Originally Written for TMSM By Adventure Coordinator Autumn