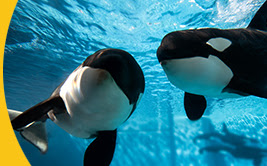 On March 17th we received the following email from SeaWorld Parks, one of the locations Pirate and Mermaid Vacations books travel to, and we wanted to share it with you.
You're one of the first to learn about several historic announcements that SeaWorld is making. When we opened our doors more than 50 years ago, killer whales were feared and even hunted. Now, they are among the most beloved marine mammals on the planet thanks, in part, to SeaWorld.
Today's announcements reflect changes in society and SeaWorld's evolution with those changes:
Last generation of killer whales: The killer whales in our care will be the last at SeaWorld.  We haven't taken a whale from the wild in nearly 40 years.  Now, we're going further and will end our orca breeding programs as of today. With the skills and dedication of our entire SeaWorld team, we will protect and care for these whales — here at our parks — for the rest of their lives where guests will continue to view and be inspired by them.
Introducing new, inspiring, natural orca encounters rather than theatrical shows: We will introduce new, inspiring, natural orca encounters rather than theatrical shows, as a part of our ongoing commitment to education, marine science research and the rescue of marine animals.  Everything will reflect the natural world and will focus on the research, education, care and respect that align with our mission to advance the well-being and conservation of these beautiful creatures. These programs will focus on orca enrichment, exercise and overall health, and the change will start in our San Diego park next year, followed by San Antonio and then Orlando in 2019.
New partnership to protect oceans and marine mammals:We are pleased that The Humane Society of the United States (HSUS) supports the changes we announced today. These two leading organizations are coming together for an agreement that will further both groups' missions. SeaWorld and the HSUS are joining together in a partnership focused on the health of our oceans and the animals that call them home.  HSUS and SeaWorld have common ground, in that both of our organizations love animals and want to protect them.  The partnership helps each group extend its own mission and is based on their joint interest in preserving and protecting wild animals and the places they live. The issues around animal conservation and protection are much bigger than any one organization, and we can be much stronger together.
While these decisions were not easy to make and represent a shift in our business, they do not change our core values and purpose: to protect animals in the wild and inspire our guests to join us in this critical mission.
Thank you for your continued support and we invite you to learn more about the new SeaWorld at SeaWorldCares.com/Future