We originally shared the news of the new Evening Honeymoon or Romance package with you in March of 2017. Today Disney Destinations has confirmed that this option will in fact be available through February 29 ,2019 with Happily Ever After Fireworks Dessert Parties.
Are you celebrating a honeymoon or romantic getaway at Walt Disney World® Resort? You can make it even more special with one of the limited-time Enchanted Evening Honeymoon or Romance package options now featuring the Happily Ever After Fireworks. Effective today these Enchanted Evening options are available to book through February 20, 2019 for travel February 28, 2019 . Effective May 2018 the price for each package is $199 per couple.
These additional options for Walt Disney Travel Company packages include:
Two exclusive honeymoon or romance-themed MagicBands
Two exclusive romance-themed keepsake luggage tags
Two admissions to the Fireworks Dessert Party with Plaza Garden Viewing at Magic Kingdom® Park, plus a small celebratory treat
Please note the Enchanted Evening option can be added to any Walt Disney Travel Company Walt Disney World Resort Hotel package. Please know a Walt Disney Travel Company Magic Your Way Package is defined as a room/ticket, room/ticket/dining, or room/dining package cash reservation at a Walt Disney World Resort. The Enchanted Evening package option can not be added to Room Only or Disney Vacation Club reservation points stay. It is not available at the Walt Disney World Swan and Dolphin Hotels, the Four Seasons Resort Orlando at Walt Disney World Resort, Disney Springs Resort Area Hotels, Walt Disney World Gateway Hotels or Walt Disney World Good Neighbor Hotels.

Frequently Asked Questions:
Can Guests select one of the standard solid MagicBand colors instead of the Romance MagicBand?
To receive the exclusive Romance MagicBands, Guests are encouraged to create or sign into their My Disney Experience account at disneyworld.com to link their package reservation. If Guests wish, they can modify their MagicBands selection to one of the 8 solid MagicBands available through My Disney Experience. Once Guests have selected a color MagicBandthey will not have another opportunity to receive the Romance MagicBands.
Is there reserved seating for the Fireworks Dessert Party?
Guests will have a confirmed reservation at the dessert party on their desired date as part of their package reservation. Seating is open, so it is recommended Guests arrive early if they have a preference for where they would like to sit within the party.
What is the special treat that is given at the Fireworks Dessert Party?
A special treat from the Ganachery including 6 handmade chocolate ganaches featuring Cinderella's Coach in a small white box with a ribbon holding a silver-toned key charm and a special message.
Is the Fireworks Dessert Party special treat customizable?
The special treat is not customizable.
Can this add-on be purchased for more than two Guests on the same package?
Yes. All Guests would have the option to receive the exclusive MagicBand and would receive admission to the Fireworks Dessert Party. Only one special treat would be provided at theFireworks Dessert Party.
Does every Guest on the package have to purchase this product?
No. Guests just need to specify which members of their party will participate in the Enchanted Evening experience.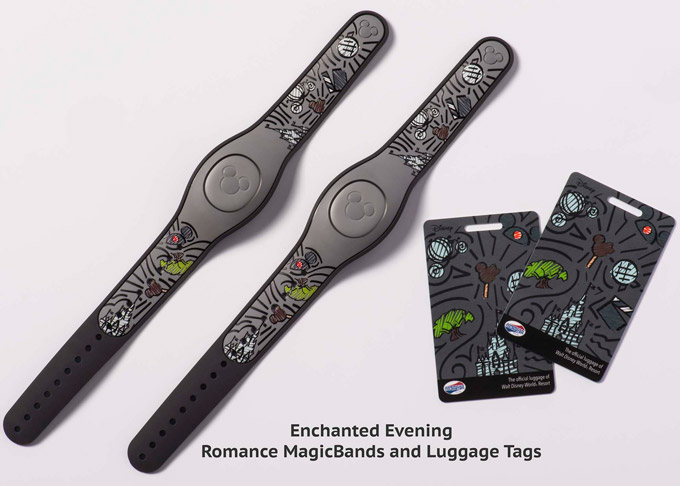 Blockout Dates:
August 17, 24, 28 & 31
September 3, 6, 7, 9, 11, 14, 16, 17, 18, 21, 23, 25, 27, 28, 30
October 2, 4, 5, 8, 9, 10, 11, 12, 14, 16, 18, 19, 21, 23, 25, 26, 28, 30 & 31
November 8, 9, 12, 13, 15, 16, 25, 27, 29 & 30
December 2, 4, 6, 7, 9, 11, 13, 14, 16, 18 & 20-31
These Enchanted Evening package options can be added to Walt Disney Travel Company Magic Your Way Packages. The Fireworks Dessert Party is available seven days a week, excluding blockout dates. Magic Kingdom Theme Park admission is required and is not included. If Guests wish to visit other theme parks on the same day their Magic Your Way ticket needs to include the Park Hopper Option. Enchanted Evening option must be booked a minimum of 7 days prior to arrival.