For the first time ever, Disney Cruise Line is sailing Down Under with 2-, 3-, 4-, 5- and 6-night cruises from Auckland, Brisbane, Melbourne and Sydney. Embark on an unforgettable voyage immersed in the magic of Disney storytelling—from award-winning entertainment, festive deck parties and spectacular themed events to world-class dining, imaginative kids clubs and beloved Characters throughout your sailing.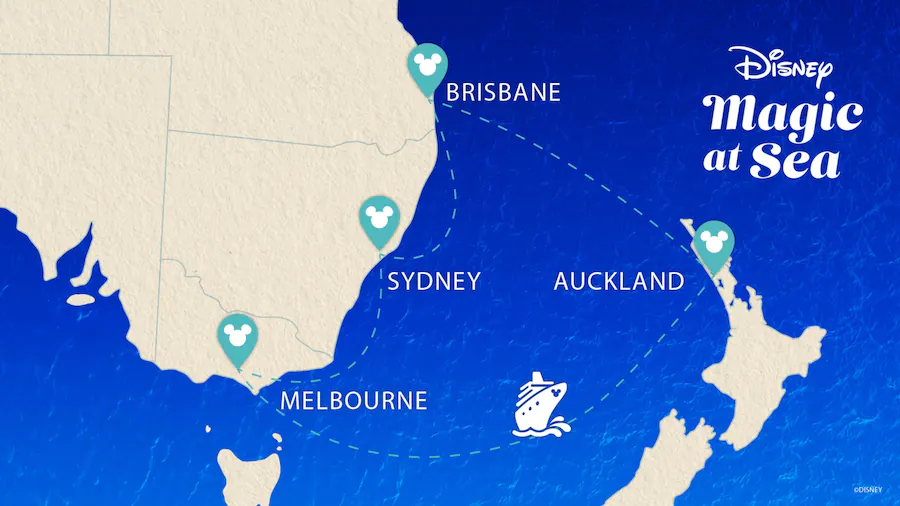 With home ports in New Zealand and Australia, the magic of Disney Cruise Line has never been closer.
Auckland, New Zealand
Located at Waitematā Harbour, the Port of Auckland is just a short walk to the downtown area and iconic Sky Tower. Here, visitors can delight in the Domain Wintergardens, the New Zealand Maritime Museum, the Auckland Art Gallery and more.
Brisbane, Australia (Queensland)
Close to the Brisbane Airport (BNE) and public transportation, the Port of Brisbane is accessible to visitors near and far. Located in Australia's third largest city, the port provides easy access to restaurants, pubs and shopping. Worthwhile day trips include the Lone Pine Koala Sanctuary and Australia Zoo.
Melbourne, Australia (Victoria)
Situated on the mouth of the Yarra River, the Port of Melbourne offers something for everyone with its proximity to fine dining, art galleries, museums, vineyards, sporting and entertaining events, and coffee shops galore. The port is also just a short flight away from Adelaide.
Sydney, Australia (New South Wales)
Conveniently located in Sydney Harbour, the Port of Sydney is close to the iconic sights and sounds of Australia's largest city—including Circular Quay, the Royal Botanic Garden, Bondi Beach, Harbour Bridge and the Opera House.
Health & Safety Is a Top Priority
Disney Cruise Line has implemented multiple layers of health and safety measures considering the guidance from health authorities and medical experts.
Guests that are U.S. Based Disney Cruise Line Castaway Club and select other affinity groups may take advantage of the following extended early booking windows for the repositioning cruises:
September 25, 2022: Platinum Castaway Club Members & Golden Oak Members
September 26, 2022: Gold Castaway Club Members
September 27, 2022: Silver Castaway Club Members, eligible Disney Vacation Club Members and Adventure Insiders
September 28, 2022: All Guests
(Booking times in the US will be based on the Australia booking windows)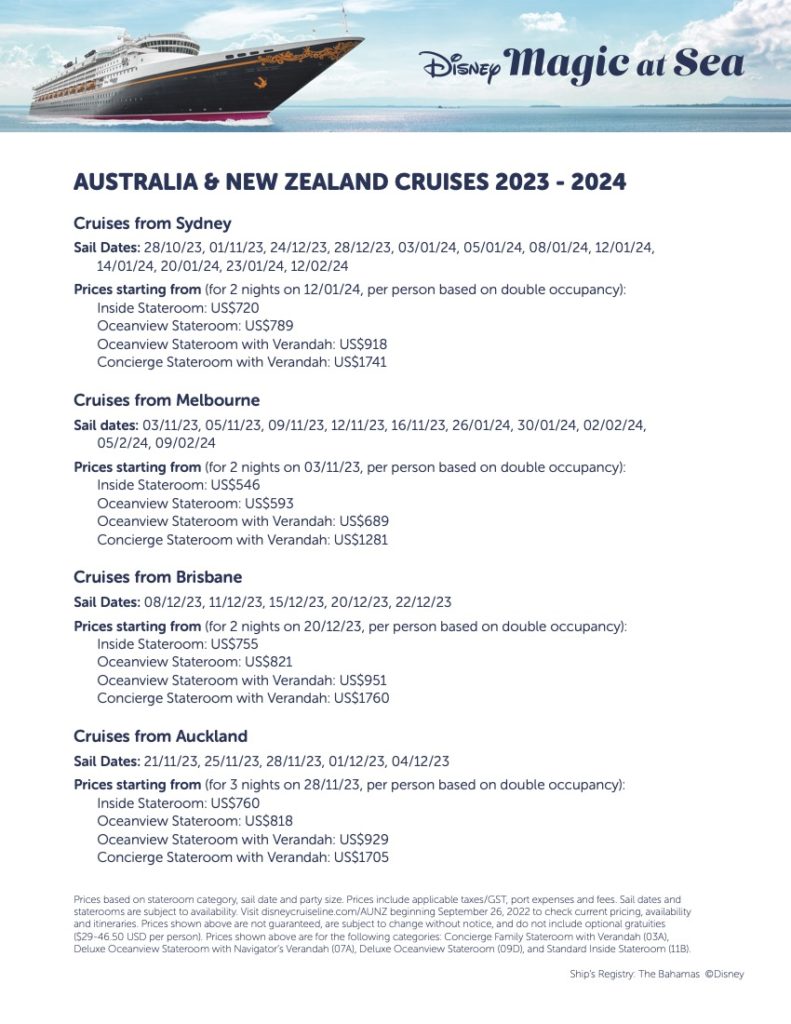 Adventures by Disney
Make your vacation even more magical by spending a few extra days in Sydney either before or after your South Pacific cruise. Become part of the story while a local, Disney-trained Adventure Guide share their knowledge of local people, customs and places during carefully planned excursions. Your expert guide will also ensure that your trip is not just loads of fun but hassle-free as well. From checking you in to your luxury hotel to recommending dining options and not-to-be-missed experiences, every detail of your extended visit in this magnificent city will be handled with the utmost care.
Additionally, guests onboard the repositionaing sailings arriving or departing from Sydney will have exclusive access to a special Adventures by Disney itinerary. The Sydney Escape offers a 4-day, 3-night adventure, where guests will explore some of the best this magnificent city has to offer, making it the perfect pre- or post-adventure for their South Pacific Disney Cruise.